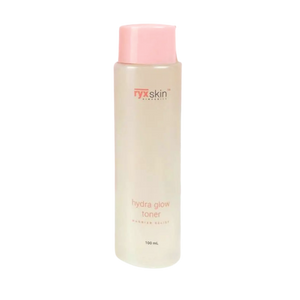 Ryxskin Sincerity Hydra Glow hydrating toner 100ml
Product name: RyxSkin Sincerity  Hydra Glow Toner
 
Type: facial hydrating toner

Net. wt: 100ml

key benefits:
RyxSkin Sincerity  Hydra Glow Toner is the lightest and most hydrating them all. Suitable for teens, lactating mommies, preggies and even for all genders. This toner quickly soothes and nourishes skin, providing essential hydration and balancing the pH levels for healthier, more radiant-looking skin.

how to use it: 
We recommend using it everyday as a second step in a morning routine, after using a facial cleanser. Moisten a cotton pad with our hydra glow toner and apply to the face and neck using upward strokes, avoiding the eye area. For best results, use a broad spectrum SPF moisturizer as the next step.

ingredients:
Infused with nature's best skin care ingredients such as Aloe Vera, Witch Hazel, Rosewater, Cucumber Extract and Centella Asiatica, get a visibly blooming and supple skin without harsh chemicals and toxins.
---
We Also Recommend
---