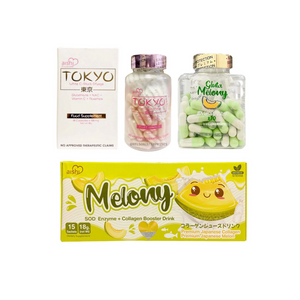 Radiant Skin Trio: Gluta Melony Capsules, Aishi Tokyo Glutathione Capsules, and Aishi Thaikyo MELONY Collagen Booster Drink
Radiant Skin Trio: Gluta Melony Capsules, Aishi Tokyo Glutathione Capsules, and Aishi Thaikyo MELONY Collagen Booster Drink
Experience the Beauty of Gluta Melony:
🌟 AISHI GLUTA MELONY X10 - 60 PCS 🇹🇭 Made in Thailand 🍈 L-Glutathione with Real Melon Extract
Unleash the fast-action benefits of Melon Extract for your skin:
✨ Rejuvenate and look younger. 🌼 Combat the signs of aging. 👁️ Nourish your eyes and promote a youthful appearance. 🌞 Repair UV damage and revitalize your skin.
Melon is your secret to radiant skin. Rich in Vitamin C, it enhances collagen levels, strengthening your skin cells and fighting the effects of aging like wrinkles and sagging.
Experience the goodness of Gluta Melony, just like biting into a fresh green melon! 💚
For Faster Whitening, Choose AISHI MELONY X10.
For a natural glow, embrace GLUTA MELONY X10.
Discover Beauty with Aishi Premium Tokyo White C-Block Dfyage Glutathione:
🌸 Japan Formula 🌞 Addresses uneven skin tone, sagging, freckles, dullness, and dryness. 💡 Fights skin issues caused by sun exposure, stress, and pollution. 💫 Contains 400mg of glutathione and 300mg of actives per capsule. 🌼 Promotes intense lightening for a bright and luminous complexion.
Elevate your skincare routine with these exceptional products. Note: No approved therapeutic claims.
Aishi Thaikyo MELONY Collagen Booster Drink, 15 Sachets
Indulge in Aishi Melony, your all-in-one beauty and wellness solution:
Introducing Aishi ThaikYo Melony Collagen Booster Drink, the key to glowing skin and peaceful nights!
What sets Aishi Melony apart? We've carefully curated it with the finest ingredients for extraordinary results:
Hydrolyzed Marine Collagen: Unlock a healthy, radiant complexion.
Japanese Honeydew Lemon: Promote digestion for the peaceful sleep you deserve.
Chia Seed: Replenish your body with essential nutrients after a long day.
Almond Milk: A rich source of Vitamin E for skin and hair, along with antioxidants to combat aging.
Experience the transformation without approved therapeutic claims. Drink in the beauty and well-being today!
---
We Also Recommend
---