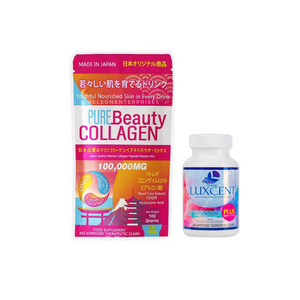 Luxcent Capsules & Pure Beauty Collagen 100,000mg Combo - Ultimate Beauty Enhancers
Elevate your beauty regimen with the Luxcent Capsules and Pure Beauty Collagen 100,000mg Combo - a trusted choice of top celebrities and vloggers. Join the glow-up revolution and experience the ultimate beauty-enhancing trio.
What's in it for you?
🌟 Radiant Skin
💁 Beautiful Hair
💅 Strong Nails
Pure, Safe, and Effective: Pure Beauty Collagen - Made in Japan 🇯🇵, with a whopping 100,000mg per pouch, and a recommended daily dose of 3000mg.
Luxcent - Made in the USA 🇺🇸, with each bottle containing 60 capsules. Just 2 capsules a day, and you're on your way to unlocking your inner radiance.
Discover the secret behind the luminous beauty of the stars. Purchase the Luxcent Capsules and Pure Beauty Collagen 100,000mg Combo today, and let your beauty shine like never before! 💫
---
We Also Recommend
---