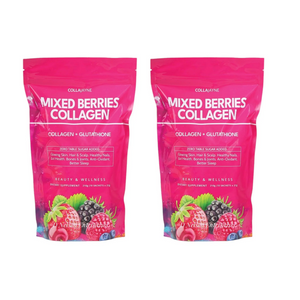 2-pack CollaJayne Mixed Berries Collagen + Glutathione 10 Sachets
Indulge in the daily ritual of self-care with CollaJayne Mixed Berries Collagen Drink – your pathway to wellness and radiant skin. Packed with premium, nutrient-rich berries, this delightful beverage is not only a treat for your taste buds but also a powerful elixir for your overall health.
Why are mixed berries good for you?
Mixed berries are nature's treasure trove of wellness benefits:
Powerful Antioxidants: Berries are loaded with antioxidants, helping to combat the effects of aging and environmental stress on your skin.

Anti-Aging: Bid farewell to fine lines and embrace a more youthful complexion with the goodness of collagen and L-Glutathione.

High in Vitamin C: Boost your immune system and skin health with the rich vitamin C content found in berries.

Great for Overall Health: Berries aren't just a skin-saver; they promote your overall well-being, from heart health to improved digestion.
NO APPROVED THERAPEUTIC CLAIMS
Ingredients:
Our unique formula is a fusion of nature's finest ingredients:
Strawberry Extract: Bursting with flavor and packed with vitamins, strawberries are a skin-loving ingredient.

Blueberry Extract: Blueberries are your skin's best friend, rich in antioxidants and vitamins.

Açaí Berry: Known for its superfood status, açaí berry supports overall health and vitality.

Goji Berry: These little powerhouses are celebrated for their anti-aging and immune-boosting properties.

Stevia: A natural sweetener that adds guilt-free sweetness to your daily ritual.

Collagen: Essential for skin elasticity and hydration, collagen helps you maintain a youthful glow.

L-Glutathione: A potent antioxidant that promotes skin whitening and even skin tone.

Vitamin C (as Sodium Ascorbate): A key player in collagen production and overall skin health.

Grapeseed Extract: Loaded with antioxidants, grapeseed extract supports your skin's resilience.

Gotu Kola Extract: Known for its skin-soothing properties, Gotu Kola helps maintain skin health.

Hyaluronic Acid: Keeps your skin hydrated and looking radiant.

Sakura Extract: Known for its skin-brightening properties, Sakura extract contributes to a more even complexion.
---
We Also Recommend
---