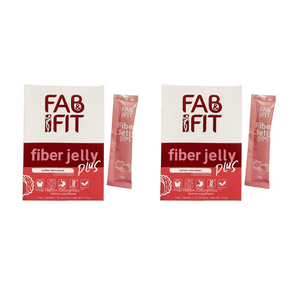 2-pack Fab & Fit Fiber Jelly Lychee, 10 Sachets
Discover the goodness of Fiber Jelly Plus, a delectable and convenient way to boost your daily fiber intake. Each serving contains Sodium 8.25 mg, with RENI (Reference Intake) not established for an extra health kick.
Ingredients:
Water
Stevia rebaudianan
Lychee juice concentrate
Fructooligosaccharide
Xylooligosaccharide
Galactooligosaccharide
Cassia seed powder
Plant comprehensive fruit and vegetable powder
Food additives: Compound jelly coagulant (carrageenan, potassium chloride, xanthan gum, gellan gum, konjac powder, wheat germ dextrin, edible glucose)
Sodium citrate
Citric acid
DL Malic acid
Potassium sorbate
Food use essence
Directions: Indulge in the goodness of Fiber Jelly Plus by consuming it directly. Ensure not to exceed one jelly per day for optimal results.
Storage: Keep it in a cool, dry place away from direct sunlight.
Precaution: Consult with a physician before use if you are under 18, pregnant, or lactating.
Enhance your wellness journey with Fiber Jelly Plus. Satisfy your sweet cravings while nourishing your body with essential fiber. Elevate your daily routine – one jelly at a time
---
We Also Recommend
---