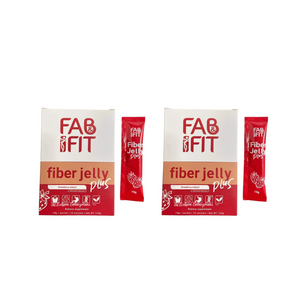 2-Pack Fab & Fit Fiber Jelly STRAWBERRY, 10 Sachets/ box
Elevate your wellness journey with Fab & Fit Fiber Jelly Plus in the delightful Strawberry flavor, offering you a convenient and delicious way to boost your fiber intake. Each box contains 10 sachets, crafted to support gut health through a blend of fiber and antioxidant-rich fruit extracts, including apple and blueberry.
Health Benefits:
Promotes regular bowel movements with high fiber and natural ingredients.
Boosts metabolism for effective weight management.
Alleviates constipation and reduces bloatedness.
Supports healthier digestion.
Enhances immunity.
Nutrition Facts:
Serving size: 1 sachet
Servings Per Container: 10
Energy: 60 kcal
Protein: 0g
Fat: 0g
Carbohydrate: 3.49g
Sodium: 8.25mg
RENI (Reference Intake) not established
Ingredients: Water, Stevia rebaudianan, Strawberry juice concentrate, Fructooligosaccharide, Xylooligosaccharide, Galactooligosaccharide, Cassia seed powder, plant comprehensive fruit and vegetable powder; food additives: Compound jelly coagulant (carrageenan, potassium chloride, xanthan gum, gellan gum, konjac powder, wheat germ dextrin, edible glucose), Sodium citrate, Citric acid, DL Malic acid, Potassium sorbate, food use essence.
Directions: Enjoy the goodness of Fiber Jelly Plus by consuming it directly. Please do not exceed one jelly per day for optimal results.
Storage: Keep in a cool, dry place away from direct sunlight.
Precaution: If you are below 18, pregnant, or lactating, consult with a physician before use.
Embark on a delicious and health-boosting journey with Fab & Fit Fiber Jelly Plus. Experience the benefits of a cleansed gut and enhanced well-being, one strawberry-flavored jelly at a time!
---
We Also Recommend
---