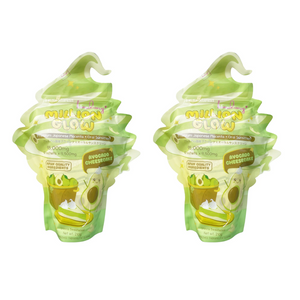 2-Pack Kimsdiary Million Glow AVOCADO CHEESECAKE Japanese Placenta Drink - 10 Sachets Each
Elevate your daily routine with Kim's Diary MILLION GLOW AVOCADO CHEESECAKE, a delectable and nutritious delight.
Key Features:
Sweetened with Stevia for a guilt-free indulgence.
Just 25 calories per serving, allowing you to enjoy without worry.
LACTOSE FREE, ensuring a broad range of consumers can savor its benefits.
NO ARTIFICIAL FLAVOR, delivering an authentic and natural experience.
GLUTEN FREE, catering to various dietary preferences.
This remarkable beverage is meticulously formulated to provide a complete dose of essential nutrients and minerals, bolstering your body's immunity and strength. Beyond its health benefits, it boasts a combination of Placenta, Glutathione, and Oral $un&lo)k, specially added to enhance skin condition, smoothen texture, brighten complexion, reveal your natural glow, prevent premature skin aging, and offer extra protection against harmful UV sun rays. Shield yourself from skin irritation, rashes, inflammation, redness, and sunburn.
Ingredients: Avocado Extract, Non Fat Milk, Almond Milk, Stevia, Aloe Vera Extract, Placenta, Biotin, Pearl Extract, Spinach Extract, Coenzyme Q10 (CQ10), Glutathione, Hydrolyzed Marine Collagen, Moringa Extract, and Pearl Extract.
Please note that this product carries NO APPROVED THERAPEUTIC CLAIMS.
Embrace wellness with Kim's Diary MILLION GLOW AVOCADO CHEESECAKE and experience the harmony of taste and health in every sip. Nourish your body and protect your skin while enjoying the rich flavors of this delightful beverage. Try it today and unlock the secret to your radiant self from within.
---
We Also Recommend
---