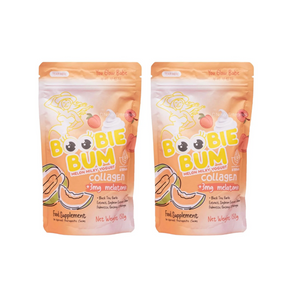 2-Pack You Glow Babe BOOBIE BUM Melon Milky Yogurt Drink - 150g Each
Introducing You Glow Babe Boobie Bum Melon Milky Yogurt, your secret to enhancing your curves and feeling unstoppable! 💪
Flavor: Melon Milky Yogurt 😋
Benefits: ✨ Helps increase progesterone and estrogen production. ✨ Aids in boosting sleeping hormones. ✨ Acts as an antioxidant.
This drink is designed to help you increase your estrogen count, contributing to fuller boobies and a plumper bum. As a bonus, it contains melatonin to assist in regulating your sleep pattern and serves as a powerful antioxidant.
Nutritional Information:
19 calories per serving.
Sugar: 0.8g.
Carbohydrates: 2.4g.
Active Ingredients:
Black Tea Extract: 100mg.
Collagen: 100mg.
Garlic Extract: 100mg.
Soybean Extract: 50mg.
Moringa Extract: 50mg.
Saw Palmetto Extract: 50mg.
Ginseng Extract: 47mg.
Melatonin: 3mg.
Precautions: Please consult your physician to ensure it is safe to take supplements alongside any prescribed medication you are currently using.
Get ready to feel more confident and achieve the boobie and bum fullness you've always desired with You Glow Babe Boobie Bum Melon Milky Yogurt. Enhance your curves and your life! 🍑💖
---
We Also Recommend
---