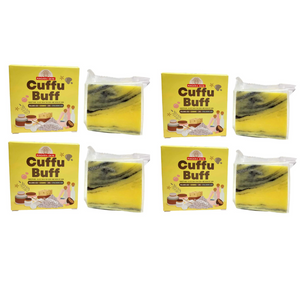 4-Pack Magara Skin Cuffu Buff Daily Coffee Scrub Soap Bars - 60g Each
Elevate your daily skincare routine with Magara Skin's CUFFU BUFF COFFEE SCRUB PARTNER SOAP. We recommend using Cuffu Buff as your daily cleanser and alternating with Cuffu Bar Coffee Scrub every other day for a rejuvenating and refreshing experience.
Cuffu Buff Volcanic Ash Soap Benefits:
✅ Acne Fighter: Say goodbye to troublesome breakouts as this soap helps combat acne, promoting clearer and healthier skin.
✅ Soothing Sensation: Calm and soothe inflamed skin, relieving redness and irritation.
✅ Age-Defying: Delay the visible signs of aging with the powerful properties of volcanic ash, helping your skin maintain its youthful radiance.
✅ Exfoliating Excellence: Gently exfoliate your skin, removing dead cells and impurities for a smoother, revitalized complexion.
✅ Glass Skin Glow: Achieve a radiant "glass skin" glow as this soap softens your skin, leaving it with a luminous, flawless appearance.
Take your skincare game up a notch by pairing Cuffu Buff with our Cuffu Bar Coffee Scrub for an all-encompassing skincare routine.
Directions for Use: For optimal results, start your skincare ritual by bathing with warm water. Apply CUFFU BUFF soap to your skin, ensuring thorough coverage. Let the soap sit on your skin for 1-2 minutes to maximize its benefits before rinsing it off. Pat your skin dry with a towel for the ultimate skincare experience.
Experience the transformation in your skin's health and beauty with Magara Skin's CUFFU BUFF COFFEE SCRUB PARTNER SOAP. Your skin deserves the best, and we're here to provide it.
---
We Also Recommend
---