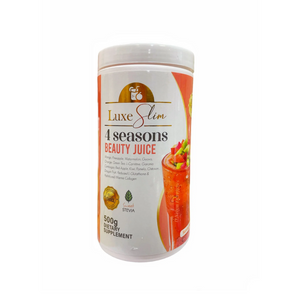 4 Seasons Beauty Juice Drink in the Luxe Slim Half Kilo Canister
Elevate your well-being with our 4 Seasons Beauty Juice, a unique blend of Collagen and L-Glutathione in a convenient half-kilo (500g) canister, offering 23 servings of beauty and fitness support.
This premium formula is designed to boost metabolism, promote appetite control, and enhance your skin's radiance. It's enriched with natural ingredients like Green Tea, Garcinia Cambogia, L-Carnitine, and Dandelion Extract, delivering a powerful health and beauty combination.
Each serving contains just 19 calories and 2g of carbs, sweetened with Stevia for a guilt-free experience.
Ingredients:
Mango
Pineapple
Watermelon
Guava
Orange
Green Tea
L-Carnitine
Garcinia Cambogia
Red Apple
Kiwi
Pomelo
Dandelion
Chitosan
Dragon Fruit
Stevia
Reduced L-Glutathione
Hydrolyzed Marine Collagen
Preparation: Simply dissolve 4 1/2 tsp or 21g into hot or cold water.
Precaution: Prior to use, consult a physician if you are pregnant, lactating, or have a history of medical conditions.
Storage: Keep the product stored at temperatures not exceeding 30°C and out of reach of children.
Discover the beauty and wellness benefits of 4 Seasons Beauty Juice with Collagen and L-Glutathione. Elevate your health and beauty journey today!"
---
We Also Recommend
---