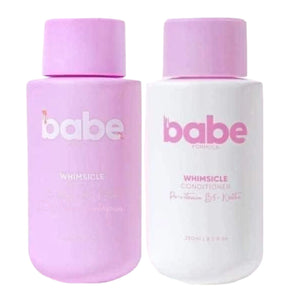 BABE Formula WHIMSICLE Shampoo & Conditioner, 250ml Each
Introducing the Babe Formula WHIMSICLE Shampoo & Conditioner, the perfect hair care duo to revitalize and nourish your locks. Each bottle contains 250ml of goodness to transform your hair care routine.
The WHIMSICLE formula is carefully crafted with beneficial ingredients to keep your hair looking and feeling its best. It includes Pro Vitamin B5 to revitalize damaged hair, Argan Oil for deep moisture, and Aloe Vera to soothe dry and itchy scalp. With this powerful combination, your hair will be pampered and rejuvenated.
One of the highlights of Babe Formula WHIMSICLE is its mild formula, making it suitable for daily use. It is sulfate-free, paraben-free, silicone-free, salt-free, and cruelty-free, ensuring a gentle and ethical hair care experience.
Infused with Collagen, Hydrolyzed Keratin, Aloe Vera, and Shea Butter, WHIMSICLE provides your hair with nourishment and care it deserves. These nourishing ingredients have been proven to enhance the health and appearance of hair.
Here's why you'll love it, babe:
✔️ Sulfate-free: Enjoy a gentle cleanse without harsh sulfates that can strip your hair of natural oils.
✔️ Paraben-free: Rest easy knowing that no harmful parabens are present in this formula.
✔️ Silicone-free: Let your hair breathe freely without any silicone build-up that can weigh it down.
✔️ Salt-free: Keep your hair vibrant and healthy without the drying effects of salt.
✔️ Cruelty-free: Support ethical hair care practices with a product that is not tested on animals.
Moreover, Babe Formula WHIMSICLE is safe for children, pregnant women, and lactating mothers, ensuring that everyone can benefit from its gentle and effective formulation.
Experience the magic of Babe Formula WHIMSICLE Shampoo & Conditioner, and give your hair the love it deserves. Add this delightful duo to your hair care routine and enjoy beautiful, luscious locks every day!
---
We Also Recommend
---