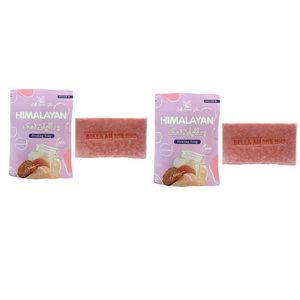 Bella Amore Skin Himalayan Soap 130g 2-pack
The Bella Amore Skin Himalayan Healing Soap is described as an all-natural, chemical-free exfoliator with properties that can help soothe the skin by calming irritations. The key ingredients in this soap include Saponified Coconut Oil, Ricebran Oil, Rose Water, Glycerin, Olive Oil, Pink Clay (Kaolin), Pink Himalayan Salt, Hyaluronic Acid, Ceramides, Aloe Vera Extract, Licorice Extract, Fragrance, AHA (Alpha Hydroxy Acid), and Niacinamide.
How to Use:
Create a generous lather and apply it all over the body.
Thoroughly rinse with water, then pat dry and use a soft towel to dry the body.
It can be used as a daily bath soap or alternated with the Himalayan Healing Soap.
Benefits:
Treats Psoriasis and other skin issues.
Reduces scaling, redness, and irritation.
Helps balance skin pH levels.
Exfoliates the skin.
Reminders:
If rashes occur, it is recommended to stop using the product immediately.
Manufactured Exclusively for: BAS Cosmetic Products and Trading bellaamoreskin : recreate for eBay
This soap seems to focus on providing a natural and soothing skincare experience, with ingredients known for their hydrating, exfoliating, and calming properties. It's important for users to be aware of their skin's sensitivity and discontinue use if any adverse reactions occur. Additionally, the provided instructions on usage and reminders are helpful for ensuring a positive experience with the product.
---
We Also Recommend
---