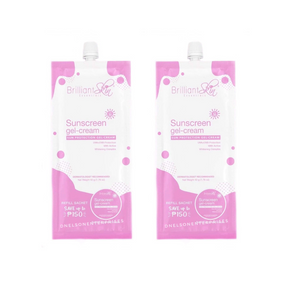 Brilliant Skin Essentials Pinkish Glow Sunscreen-Gel Cream SPF 30 (50G)- 2-PACK
Key Features:
✅ UVA+UVB Protection: Shield your skin from harmful rays and prevent sun damage.
✅ Moisturizes Skin: Hydrate your skin while providing sun protection.
✅ Pinkish Glow Effect: Achieve a radiant and healthy-looking complexion.
✅ Additional Cooling Effect: Experience a refreshing and soothing sensation.
✅ Enhanced Whitening: Promote a brighter and even skin tone.
✅ Freshly New Milky Scent: Enjoy a delightful and subtle fragrance.
✅ Smoothening: Experience smoother and softer skin.
✅ Anti-Aging Formula: Combat the signs of aging for a youthful appearance.
Why Choose Brilliant Skin Essentials?
Brilliant Skin Essentials is dedicated to providing skincare solutions that prioritize both protection and pampering. Our Sunscreen Gel Cream is your all-in-one solution for daily sun defense, hydration, and a touch of luxury.
---
We Also Recommend
---