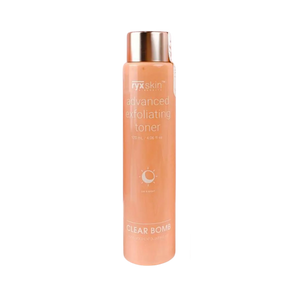 Ryxskin Sincerity Clear Bomb exfoliating Toner 120ml
Product name: Clear Bomb exfoliating Toner

Type: facial toner 

Net. wt: 120ml

key benefits: 
Say hello to healthier, brighter skin with Ryxskin's Sincerity Clear Bomb exfoliating Toner! With its powerful cleansing and brightening capabilities, this little dynamo will effectively slough away dead skin to reveal a glowing, smoother complexion. It targets blemishes, dark spots, and uneven skin tone with easy-breezy removal of bad bacteria, so you can confidently strut your stuff with all the freshness of a daisy, no matter the time of day!

How to use it: After cleansing, apply a dime sized amount on cotton pad and gently wipe or your face avoiding the eye and lip areas.
Use twice daily.

Ingredients:
Ethyl Alcohol Glycolic Acid Salicylic Acid Rubus Coreanus (Korean Black Rasberry)  and Rubus Chingil Extract, Niacinamide Glycerin, Propylene Glycol, Glycerin, Phenoxyethanol, Allantoin, Alpha Arbutin and France.
---
We Also Recommend
---