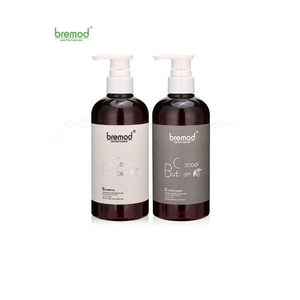 Cocoa Butter Nourish & Repair Shampoo and Conditioner by BREMOD
Elevate Your Hair Care Routine with BREMOD Cocoa Butter Shampoo and Conditioner, Each 400ml
Experience the perfect daily hair care duo that delivers both nourishment and repair without compromising the health of your locks.
BREMOD Shampoo:
Reduces protein loss and promotes healthy-looking hair.
Provides superior hair protection.
Deeply penetrates the hair shaft for ultimate effectiveness.
Coats each strand for added strength.
Encourages hair growth for longer, sleeker, and shinier locks.
Moisturizes your hair, minimizing breakage.
Shields your hair from protein loss and damage, especially when wet.
Protects your hair from environmental stressors like wind, sun, and smoke.
BREMOD Conditioner:
Slows down hair loss.
Restores moisture to dry hair and scalp.
Eliminates dandruff for a healthier scalp.
Acts as a soothing scalp treatment.
Nourishes your hair from the inside out.
Features a rich, creamy texture that deeply moisturizes.
Offers incredible nourishment, leaving hair soft and never stripped.
Easily penetrates the hair shaft for thorough repair.
Delights your senses with the light, all-natural scent of cocoa butter.
Experience Superb Quality and Safety: BREMOD Cocoa Butter Shampoo and Conditioner are crafted with utmost care and quality, ensuring they are safe and effective for your daily hair care routine.
Elevate your hair care game with BREMOD today!
---
We Also Recommend
---