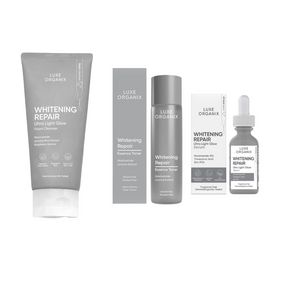 Complete Radiance Bundle: Luxe Organix Whitening Repair Toner, 10% Niacinamide Serum, and Ultra Light Glow Foam Cleanser
Luxe Organix Whitening Repair Ultra Light Glow Foam Cleanser 150g
Experience the transformative power of Luxe Organix Whitening Repair Ultra Light Glow Foam Cleanser, meticulously crafted with potent ingredients to unveil radiant and flawless skin. Formulated with Niacinamide and Licorice Root Extract, this cleanser is designed to diminish hyperpigmentation, minimize enlarged pores, and regulate excess oil production.
Key Benefits:
Evens out skin tone for a uniform complexion
Lightens scars and dark spots, revealing a brighter skin tone
Infused with Raspberry Ketone, Licorice Root Extract, and Niacinamide for targeted skincare
Alcohol-free formulation for gentle cleansing
Paraben-free for a clean beauty experience
Dermatologically tested for your peace of mind
Indulge in the luxurious blend of natural ingredients and the dermatologically tested formula that promises a fresh and natural glow. Elevate your skincare routine with Luxe Organix, where effectiveness meets purity. Embrace the confidence of healthy, luminous skin.
Luxe Organix Whitening Repair Essence Toner Niacinamide Licorice Extract 150ml
Discover the transformative benefits of Luxe Organix Whitening Repair Essence Toner, a skincare essential designed to enhance your natural radiance. This 150ml toner is enriched with powerful ingredients such as Niacinamide and Licorice Extract, delivering a host of benefits for your skin.
Key Features:
Brightens skin for a radiant complexion
Evens out skin tone for a uniform appearance
Lightens scars and dark spots, revealing a brighter skin tone
Water-soluble Vitamin B3 reduces the appearance of blemishes and enlarged pores
Balances natural oil levels for a shine-free complexion
Improves the skin's barrier, preventing moisture loss and protecting against pollutants
Gentle on the skin, suitable for daily use
Enhances skin texture and smoothness
Reduces hyperpigmentation caused by sun damage
Application:
Soak a cotton pad with an adequate amount of the toner.
Gently apply to the face, avoiding the eye and mouth area.
Let the toner remain on the face until fully absorbed.
Elevate your skincare routine with Luxe Organix, where science meets nature to unveil your skin's true luminosity. Experience the difference of a lighter, more even skin tone and a revitalized complexion with each use.
Introducing Luxe Organix Whitening Repair Ultra Light Glow Serum, a powerful solution crafted to elevate your skincare routine. Packed with a potent 10% Niacinamide, this serum is a game-changer in addressing uneven pigmentation. With the added benefits of Tranexamic Acid and Zinc PCA, it goes beyond, smoothing out rough and textured skin for a revitalized and healthier complexion.
Key Ingredients:
Niacinamide 10%: Lightens uneven pigmentation for a more radiant complexion
Tranexamic Acid: Enhances skin texture, addressing rough and uneven skin
Zinc PCA: Regulates oil production, promoting a natural and healthy skin balance
Features:
Cruelty-Free: Committed to ethical skincare practices
Alcohol-Free: Gentle on the skin for daily use
Paraben-Free: A clean formulation for a pure skincare experience
Fragrance-Free: No added fragrances for a delicate touch
Brightens Skin: Reveals a brighter and more even skin tone
Reduces Age Spots: Fades the appearance of age-related pigmentation
Lightweight: Easy to incorporate into your daily routine
Non-Sticky: Delivers powerful results without the sticky feel
Dermatologically Tested: Ensuring a safe and effective formulation
Experience the luxury of science-backed skincare with Luxe Organix. Transform your skin with each application, and enjoy the confidence of a naturally healthy glow. Elevate your skincare journey today!
---
We Also Recommend
---