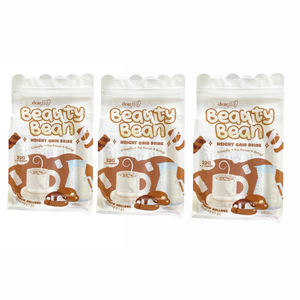 Dear Face Beauty Bean CHOCO MALLOWS Weight Gain Drink 10 Sachets X 22g / PACK- 3 PACKS
3 PACKS Dear Face Beauty Bean CHOCO MALLOWS Weight Gain Drink 10 Sachets X 22g/ PACKS
Get on Track to Achieving Your Weight Goals with Beauty Bean's Choco Mallows Weight Gain Drink!
Are you ready to supercharge your weight gain journey? Look no further! Our Choco Mallows Weight Gain Drink is your secret weapon. Packed with a potent blend of ingredients like Chlorella, Pea Protein, Moringa extract, Barley extract, Wheatgrass extract, and Ashwagandha extract, this delicious concoction makes weight gain faster and more efficient.
Key Features:
Serving Size: 22g
Servings: 10
Calories: 90
Total Fat: 2.3g
Saturated Fat: 0.69g
Cholesterol: 17mg
Sodium: 28mg
Total Carbohydrate: 9.3g
Dietary Fiber: 0.9g
Total Sugars: 4.5g
Protein: 10g
What Sets Our Choco Mallows Weight Gain Drink Apart:
Non-Dairy Creamer for a creamy texture
Rich Dark Chocolate flavor
Chlorella Extract for enhanced nutrient absorption
Pea Protein for muscle growth
Moringa Oleifera Extract for a nutrient boost
Barley Extract for extra calories
Wheatgrass Extract for added vitality
Ashwagandha Extract for improved well-being
Marshmallows for a delightful twist
Sweetened with Stevia for guilt-free indulgence
Whether you're an athlete looking to gain size and strength or simply on a weight gain journey, our Choco Mallows Weight Gain Drink is your perfect companion. It's time to take the next step in your fitness goals with this powerhouse beverage.
Why wait? Grab yours now and enjoy the benefits of faster, more efficient weight gain. Your journey to a stronger, healthier you starts here!
---
We Also Recommend
---