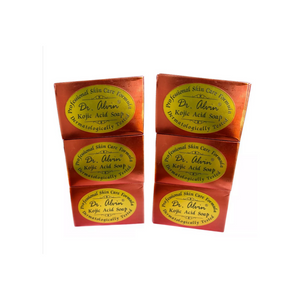 Dr. Alvin Kojic Acid Soap by Professional Skin Care Formula
Dr. Alvin Kojic Acid Soap by Professional Skin Care Formula- 6 packs
Reveal a brighter and rejuvenated complexion with our Kojic Acid Soap. These 135g bars are suitable for both face and body, exfoliating dead skin cells, moisturizing dry skin, and leaving your skin soft and radiant.
Usage Instructions: Incorporate it into your daily routine by using it in the morning and at night. Apply to wet skin, lather for 2 to 3 minutes, and then rinse thoroughly with lukewarm water. When using near the eyes, take care to prevent suds from entering. In case of contact, flush with cold tap water.
Experience the benefits of brighter and revitalized skin with Dr. Alvin's Kojic Acid Soap.
---
We Also Recommend
---