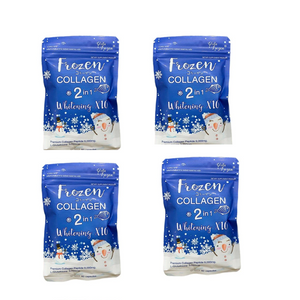 Frozen Collagen 60 Capsules
Frozen Collagen 60 Capsules - 4 PAcks
Discover the best-selling skin and health capsule supplement from Thailand - Frozen Collagen. Each pack contains 60 capsules and is backed by standard food certificates, including GMP and HALAL certifications.
Benefits:
Formulated with natural ingredients
Carefully selected premium ingredient extracts in one capsule
Contains Collagen imported from Japan, renowned as the best collagen in the world
Enhances skin brightness
Reduces freckles
Fades dark spots
Addresses skin problems like acne
Promotes strong hair and nails
Maintains skin moisture and smoothness
Usage Instructions: Consume 2 capsules of Frozen Collagen before bedtime every night.
Choose the all-in-one solution for your skin and health needs. Try Frozen Collagen today!
---
We Also Recommend
---