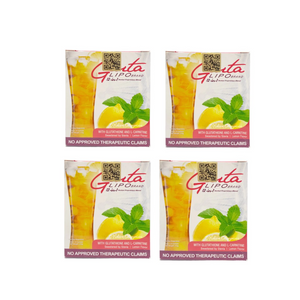 GlutaLipo Gluta Lipo Juice 12-in-1 - 4 Boxes, 40 Sachets - Ultimate Health & Beauty Booster
Introducing GlutaLipo Detox Juice - Your Pathway to Ultimate Wellness!
Unlock the secret to a brighter, healthier you with GlutaLipo Detox Juice, a 12-in-1 powerhouse of health and beauty benefits. Each box contains 10 sachets of this remarkable blend, carefully crafted with premium ingredients that have been trusted for their effectiveness for ages.
Key Benefits:
Glutathione: Known as an anti-cancer agent, this superstar ingredient enhances your skin's radiance and fairness.

L-Carnitine: A detoxifying agent that supercharges your metabolism, supporting your weight management goals.

Green Tea: Another detox hero, it helps cleanse your body of unwanted toxins.

Collagen: The ultimate anti-aging ally, collagen improves skin elasticity for a more youthful complexion.

Garcinia: Aids in weight loss by curbing your appetite, making your wellness journey more manageable.

Grape Seed Extract: Active in reducing bad cholesterol levels and helping control diabetes.

Lemon: Packed with vitamins, especially Vitamin C, it enhances the detox process, slimming, and whitening benefits.

Mangosteen: An effective detoxifying ingredient that promotes overall well-being.

Goji Berry: Supports your total health and vitality.

Barley Grass: Strengthens your immune system, keeping you resilient.

Malunggay: Provides essential nutrients for glowing and healthier skin.

Ampalaya: Regulates sugar levels and aids in diabetes prevention.
All these ingredients have been carefully selected for their proven safety and effectiveness, aiding in constipation relief and improved digestion.
At GlutaLipo, we're committed to providing world-class quality and service. We proudly source all our ingredients straight from the Philippines, making this detox blend Proudly Filipino. Join the thousands who trust us as their go-to GlutaLipo distributor and embark on your journey to a healthier, more radiant you. Your wellness transformation starts here!
---
We Also Recommend
---