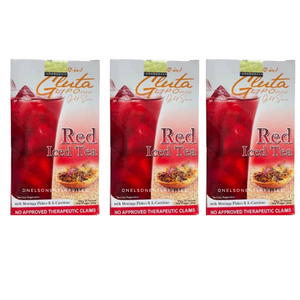 GlutaLipo Gold Series Red Iced Tea Flavor -3 Packs
Introducing the latest addition to the Glutalipo Gold Series - Red Iced Tea! Experience the delightful fusion of Mangosteen flavor, Moringa flakes, and the power of L-Carnitine in every sip.
Product Details:
1 Box contains 10 Sachets
Each sachet is 25g
Prepare by mixing with cold water
Unleash the potential of this unique blend, perfect for those who appreciate both flavor and health benefits in their beverages. Boost your wellness journey while indulging in the refreshing taste of Mangosteen.
Key Features:
Mangosteen Flavor
Moringa Flakes
L-Carnitine for added energy
Easy preparation with cold water
#RedIcedTea#GlutalipoGoldSeries #MoringaFlakes #LCarnitine #1Box10Sachets #HealthAndWellnessDrink #RefreshingBeverage
---
We Also Recommend
---