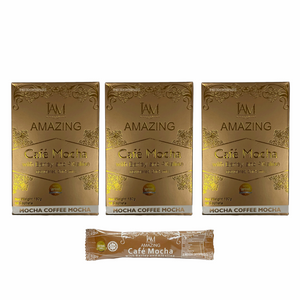 IAM WORLDWIDE Amazing Cafe MOCHA Coffee with Barley & Alkaline Blend- 3 packs
Elevate Your Daily Coffee Ritual with AMAZING Café Mocha - Infused with Barley and Alkaline!
Experience the goodness of AMAZING Café Mocha with Barley and Alkaline, a beverage that goes beyond taste. This delightful latte not only satisfies your coffee cravings but also supports your overall health journey.
🍃 Key Benefits:
Cleansing and Detoxification: Helps rid your body of impurities and toxins.
Antioxidant-Rich: Packed with antioxidants to promote well-being.
Cholesterol Control: Aids in managing cholesterol levels.
Energy Boost: Revitalizes and energizes your day.
Immune System Support: Strengthens your immune system.
Alkaline Balance: Restores and balances your body's pH level.
With only 66 calories per serving, 12g of Carbohydrates, and 6g of sugar, you can savor your coffee in a guilt-free latte flavor.
Elevate your daily coffee routine with the perfect blend of health and indulgence. Grab your AMAZING Café Mocha with Barley and Alkaline now
---
We Also Recommend
---