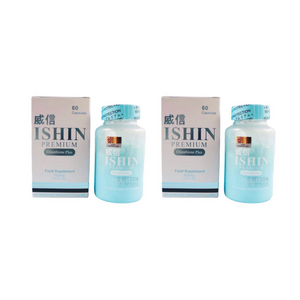 Ishin PREMIUM Glutathione Plus Food Supplement, 60 Capsules per bottle - 2 Packs
Would you like to attain a radiant complexion that glistens like a luminous pearl? Look no further than 威信 ISHIN Premium, the ideal supplement for you!
What Sets 威信 ISHIN Premium Apart? The secret lies in its core ingredient, L-Cystine, an amino acid renowned for its ability to stimulate the production of glutathione, a natural antioxidant within the body. Numerous studies have shown that glutathione has a skin-whitening effect, making L-Cystine a well-recognized whitening supplement in Japan.
But that's not all—L-Cystine doesn't stop at skin whitening. It also jumpstarts your skin's turnover process, leading to a brighter complexion. Additionally, it boasts antioxidant properties that boost the activity of glutathione peroxidase enzymes, effectively safeguarding your skin from reactive oxygen species (ROS). What's more, it inhibits the activity of tyrosinase enzymes, which play a role in melanin production linked to ROS.
By incorporating 威信 ISHIN Premium into your daily supplement routine, you'll not only experience improved overall health, but you'll also revel in the additional perk of radiant, healthy skin that truly shines.
Discover the secret to glowing skin with 威信 ISHIN Premium. Get started on your journey to a more radiant you today!
#威信ISHINPremium #LCystineSupplement #GlutathioneProduction #SkinWhitening #SkinTurnover #Antioxidant #JapaneseWhiteningSupplement #HealthySkin #RadiantComplexion
---
We Also Recommend
---