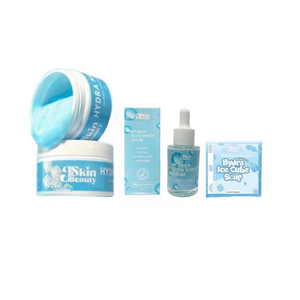 JSkin Beauty set: Hydra Ice Cube Soap, Hydra Moist Sleeping Mask & Hy-Drop Glow Boost Serum Hy-Drop Glow Boost Serum
Experience the Ultimate Skincare Solution: Strengthen Your Skin's Natural Barrier, Enhance Your Skin Microbiome, and Reveal a Healthier, Glowing Complexion!
Tired of dealing with acne, signs of aging, and dull skin? Look no further! Our skin-loving products have you covered.
Anti Acne: Bid farewell to blemishes and breakouts with our powerful, dermatologist-approved formulations designed to combat acne and promote clear, radiant skin.
Anti Aging: Turn back the clock with our carefully crafted anti-aging treatments that help reduce fine lines, wrinkles, and restore your skin's youthful elasticity and firmness.
Brightens Skin: Unveil your inner glow and watch your skin come to life as our products brighten and rejuvenate your complexion.
But that's not all; our products go above and beyond. They also strengthen your skin's natural barrier and enhance your skin microbiome, which are key factors in achieving a healthier, more radiant look.
Don't wait any longer to achieve the complexion you've always dreamed of. Try our skin-enhancing products now and experience the difference for yourself
---
We Also Recommend
---