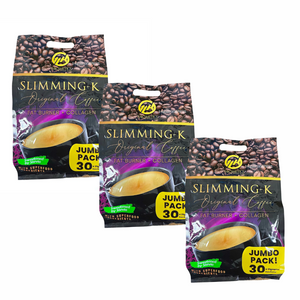 Jumbo Pack Madam Kilay Slimming-K Coffee Fat Burner + Collagen- 3 packs
Achieve your weight loss goals with Madam Kilay Slimming-K Coffee! This jumbo pack includes 30 sachets of this incredible blend that combines the power of fat-burning ingredients with collagen for a well-rounded approach to slimming down.
Key Features: Halal Certified: We take pride in offering a Halal-certified product, ensuring it meets the highest standards of quality and compliance.
Cravings Control: Ingredients like Garcinia Cambogia and African Mango extract help curb your cravings, keeping you feeling full and reducing the urge to snack unnecessarily.
Improved Metabolism: Experience increased fat burning, providing your body with a natural source of energy throughout the day.
Accelerated Fat Loss: Active ingredients work synergistically to reduce fat production and boost fat burn, aiding you in your weight loss journey.
Diabetic-Friendly: Our Slimming-K Coffee is sugar-free, making it suitable for individuals with diabetes.
Safe for Lactating/Breastfeeding Moms: You can enjoy the benefits of Slimming-K Coffee while breastfeeding. It's safe for lactating moms.
Pregnancy Note: If you're pregnant, consult your doctor before use, as individual reactions may vary.
Results may vary from person to person.
No therapeutic claims are made for this product. If you have any underlying health conditions, it's always wise to consult your healthcare provider before adding any new supplement to your routine.
Kick start your journey to a healthier you with Madam Kilay Slimming-K Coffee. Take the first step towards achieving your weight loss goals.
Order your jumbo pack today!
Note: This product is not intended to diagnose, treat, cure, or prevent any disease.
---
We Also Recommend
---