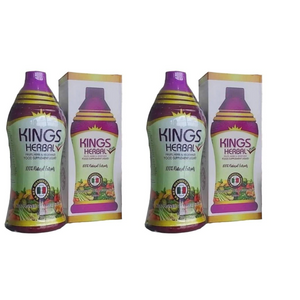 KINGS HERBAL Fruits Vegetables & Herb Fusion Food Supplement 1000ml 100% Organic - 2 Bottles
New and Improved! KINGS HERBAL PLUS with 3 additional ingredients (Anonas, Mulberry and Lemon Grass). Kings Herbal Food Supplement is a ready-to-drink product made for all ages, who may not be keen on taking pills, tablets, capsules, or any other applications that can be difficult to take. Ka Rey Herrera Herbal Food Supplement has no artificial additives and is processed as little as possible, making it as natural as possible. Having gone through as little processing as possible, the ingredients retain a great majority of their nutrients and other healthy properties, making King's Herbal food supplements great for daily use. They help detoxify the body and get rid of impurities that may be a source of various health maladies. King's Herbal is a food supplement with no therapeutic claims, so they're used to maintain good health. The health benefits are too good to pass up though, so it's still all good.
100% All Natural Extracts

80 Powerful Ingredients 

No artificial additives

Nutritious and Healthy

Superfood Herbal Supplement

No approved therapeutic claims

Note:

 Shake well before drinking. Store in a clean, cool and dry place to preserve freshness. Refrigerate after opening.

Recommended Intake:

 For Adults – 30ml 20min before meals 3 x day. For Children – 15ml 20min before meals 3 x day.
---
We Also Recommend
---