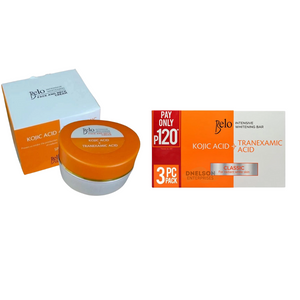 Kojic + Tranexamic Acid Triple Action - 3x65g Intensive Bar by Belo and Belo Intensive Tranexamic Face And Neck Cream 50g
Product 1:
Title: Belo Intensive Whitening Bar - Set of 3 Bars, 65g Each - Dark Spots, Pimple Marks, and Pigmentation
Description: Discover the transformative power of the Belo Intensive Whitening Bar. This classic set includes three bars, each containing 65g of a highly effective formula. Perfect for those with normal to oily or combination skin, this intensive solution targets and lightens dark spots, pimple marks, and pigmentation. Clinically proven to deliver a 64% better whitening effect than products using Kojic Acid alone, this formula has been rigorously tested by dermatologists for quality and safety. To achieve optimal results, we recommend discontinuing the use of other whitening brands one week prior to incorporating the Belo Intensive Whitening Bar into your skincare routine. Use the bar twice daily on both your face and body. Some users may experience slight stinging and itchiness as the active ingredients exfoliate the skin. If prolonged irritation occurs, we recommend discontinuing use. For individuals with dry skin, we suggest using Belo Intensive Whitening Body Lotion and Face & Neck Cream in combination with the Intensive Bar for a comprehensive skincare approach. Elevate your skincare regimen with Belo's Intensive Whitening Bar and embark on a journey to achieve brighter, more radiant skin. Don't miss out on this opportunity to transform your complexion.
Product 2:
Title: Belo Tranexamic Face & Neck Cream 50g SPF30 - Whitening and Sun Protection
Description: Elevate your skincare routine with Belo's Tranexamic Face & Neck Cream, a luxurious rejuvenating cream expertly formulated to deliver intensive whitening. This cream boasts a powerful combination of Kojic Acid and Tranexamic Acid to help you achieve a brighter complexion. With SPF30, it provides protection against harmful UVA and UVB rays, making it ideal for daily use. This cream is hypoallergenic and dermatologist-tested, ensuring it's safe for your skin. To use, simply apply it daily after cleansing and toning. Use the included spatula to scoop the desired amount and gently massage it onto your face and neck, avoiding the delicate eye area and irritated skin. For the best results, incorporate it into your morning and evening skincare routine. Keep the product away from direct sunlight and heat. Experience the ultimate in skin rejuvenation with Belo's Tranexamic Face & Neck Cream, now available in a convenient 50g size.
---
We Also Recommend
---