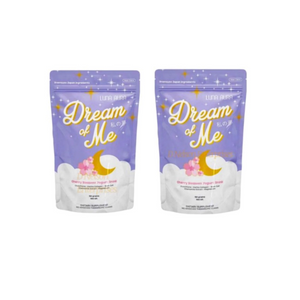 Luna Aura Dream of Me Cherry Blossom Yogurt Drink with Collagen & Glutathione (2 Packs, 150g Each)
Experience the enchanting allure of our Dream of Me 🌙 Cherry Blossom Yogurt Drink in a convenient 150g bottle. This delectable cherry blossom-infused yogurt drink does more than just tantalize your taste buds – it's a holistic elixir for your well-being.
✨ Improve Sleep Quality: Our special blend is known to promote better sleep, helping you wake up refreshed and revitalized.
🍒 Rich in Antioxidants: Packed with antioxidants, this drink offers protection against free radicals and supports overall health.
🧘‍♀️ Calm the Mind: Enjoy a moment of tranquility with each sip as it helps calm your mind and reduce stress.
💪 Boost Immune System: Fortify your body's defenses with the immune-boosting properties of this yogurt drink.
🌸 Balance Hormones: Maintain hormonal equilibrium for a sense of well-being.
💆‍♀️ Enhance Hair, Skin & Nails: Discover improved hair, skin, and nail health with the nourishing benefits of this delightful beverage.
✨ Clear & Brighten Skin: Achieve a radiant complexion as this drink helps clear and brighten your skin.
Treat yourself to a unique, delightful experience that goes beyond ordinary refreshment. Our Dream of Me 🌙 Cherry Blossom Yogurt Drink is the key to unlocking the best version of yourself. Indulge in a sip of wellness today!
---
We Also Recommend
---