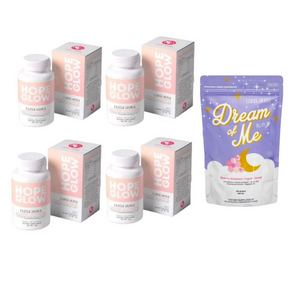 Luna Aura HOPE GLOW Glutathione + Dream Of Me Yogurt Drink--4 Bottles + 1 pack yogurt drink
Luna Aura Hope Glow Advanced Glutathione - 30 Capsules 🌟
Discover your inner radiance with Luna Aura Hope Glow Glutathione capsules. We believe in the beauty of glowing from within, and we're thrilled to share this advanced formula with you. Each bottle contains 30 capsules of safe, effective, and affordable skin lightening power, making it easier than ever to achieve the complexion you desire.
🌠 Key Features:
✨ Skin Lightening Formula: Luna Aura Hope Glow is designed to help you achieve a brighter, more even skin tone, letting your natural beauty shine through.
✨ Master Antioxidant: Glutathione is known as the master antioxidant, and our capsules are packed with it to help protect your skin from oxidative stress and maintain a youthful appearance.
✨ Product Weight: Each bottle contains 30 capsules, providing you with a month's supply of glow-enhancing goodness.
📋 How to Use:
For optimal results, take 2 capsules a day consistently for at least one month. Embrace the glow from within and reveal your inner radiance.
⚠️ Disclaimer for Supplements:
For adult use only. Keep out of reach of children. Not intended for children, pregnant, and lactating women.
If you are taking medication, consult your doctor before use.
Please consume 1-2 glasses of water after taking the supplement.
No approved therapeutic claims.
📦 Package Includes:
4 x Luna Aura Hope Glow Advanced Glutathione (30 Capsules each)
---
🌙 Dream of Me Cherry Blossom Yogurt Drink - 150g 🌙
Experience the tranquility of a peaceful night's sleep with our Dream of Me Cherry Blossom Yogurt Drink. This delightful beverage is more than just a refreshing drink; it's a cherry blossom-infused elixir that promotes relaxation, balances hormones, and enhances your overall well-being.
🌸 Key Benefits:
✨ Improved Sleep Quality: Enjoy a restful night's sleep with the soothing properties of cherry blossom.
✨ Rich in Antioxidants: This drink is packed with antioxidants to boost your immune system and protect your body.
✨ Balanced Hormones: Experience the harmony that balanced hormones bring to your life.
✨ Beauty Benefits: Enhance your hair, skin, and nails with the nourishing qualities of cherry blossom.
✨ Clear & Brightened Skin: Let your skin radiate with clarity and brightness.
📋 How to Enjoy:
Simply savor the calming effect of Dream of Me Cherry Blossom Yogurt Drink whenever you desire a moment of serenity and rejuvenation.
📦 Package Includes:
1 x Dream of Me Cherry Blossom Yogurt Drink (150g)
---
We Also Recommend
---