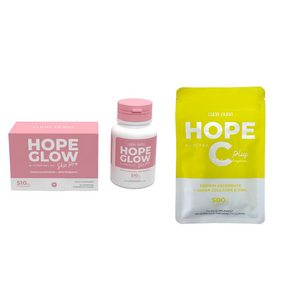 Luna Aura HOPE GLOW Skin Pro Glutathione & Probiotic and Luna Aura HOPE C Plus
-Luna Aura HOPE GLOW Skin Pro Glutathione & Probiotic, 30 Capsules
-Luna Aura HOPE C Plus, 30 Capsules
-Luna Aura HOPE GLOW Skin Pro Glutathione & Probiotic, 30 Capsules
Reveal your inner glow with HOPE GLOW Skin Pro by Luna Aura. Our premium formula combines Japan Glutathione and Probiotic for enhanced absorption and a harmonious gut-skin connection. Elevate your natural Glutathione levels and unlock younger, brighter, and more radiant skin. Get ready to shine from within!
ACTIVE INGREDIENTS: Reduced L-Glutathione, N-Acetyl Cysteine, Probiotic (L. plantarum), Milk Thistle Extract, Alpha Lipoic Acid, Sodium Ascorbate.
Product weight: 30 capsules per bottle
Recommended usage: Take it 1-2 capsules a day, before or after meals; consistently for at least one month for the best results. 
* Consult your physician before taking any new dietary supplement. 
Disclaimer for supplements: 
For adult use only. Keep out of reach of children. Not intended for children, pregnant, and lactating women.

If you are taking medication, consult your doctor before use.

Please consume 1-2 glasses of water after drinking the supplement.

No approved therapeutic claims.
Luna Aura HOPE C Plus, 30 Capsules
Discover HOPE C Plus, your daily wellness partner enriched with non-acidic Vitamin C, Japan Collagen, and Zinc. Boost your immune system, delay signs of aging, brighten your skin, and elevate your energy levels. Say goodbye to vitamin C deficiency with 1-2 daily capsules. Prior consultation needed for pregnant or lactating individuals and those with medical histories. Shop now for a healthier you!
---
We Also Recommend
---