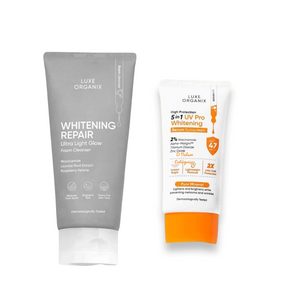 Luxe Organix 5 in 1 UV Pro Whitening Serum Sunscreen SPF 47 PA+++ 40ml+ Luxe Organix Whitening Repair Ultra Light Glow Foam Cleanser 150g
Introducing Luxe Organix Whitening Repair Ultralight Glow Foam Cleanser - a transformative skincare experience in a 150g bottle, straight from the beauty haven of Korea.
This exceptional foam cleanser is meticulously crafted with potent ingredients, featuring Niacinamide and Licorice Root Extract. Together, they work harmoniously to diminish the appearance of hyperpigmentation, reduce enlarged pores, and control excess oil. Revel in a radiant transformation as it lightens your skin and evens out your skin tone, leaving you with a fresh and natural glow.
Key Benefits: ✨ Evens out skin tone for a luminous complexion. ✨ Lightens scars and dark spots, promoting a clearer skin appearance. ✨ Brightens your overall skin complexion for a radiant glow. ✨ Effectively reduces dark spots, enhancing skin clarity. ✨ Infused with the power of Raspberry Ketone, Licorice Root extract, and Niacinamide for advanced skincare. ✨ Alcohol-Free and Paraben-Free, ensuring a gentle and clean formulation. ✨ Dermatologically Tested for your peace of mind.
Originating from Korea, Luxe Organix invites you to elevate your skincare routine with this Ultralight Glow Foam Cleanser. Immerse yourself in the beauty secrets of Korea, and let your skin indulge in the luxury of clarity and radiance. Transform your skincare journey – bid farewell to hyperpigmentation and welcome a fresh, natural glow. Secure yours now for a radiant complexion that speaks volumes!
Unleash the power of Luxe Organix High Protection 5in1 UV Pro Whitening Serum Sunscreen, your ultimate defense against the sun's rays, straight from the beauty haven of Korea.
This mineral-based sunscreen is your lightweight, non-sticky, and non-greasy companion, boasting SPF 47+++ for unparalleled sun protection. Crafted with Titanium Dioxide and Zinc Oxide, it forms a broad-spectrum shield against UVB/UVA rays. Dive into the transformative benefits of Alpha Melight, a natural skin whitening agent renowned for reducing dark spots and hyperpigmentation caused by melasma.
But the magic doesn't stop there! Luxe Organix goes beyond sun defense, infusing this sunscreen with the goodness of Niacinamide and Adenosine. These dynamic ingredients combat wrinkles, ensuring you emerge with a bright and youthful complexion. Whether it's a busy day or a seaside escape, this water and sweat-resistant formula keeps up, providing an all-day shield anytime, anywhere.
Key Features: 🌟 Fragrance-Free: Enjoy a pleasant, scent-free application. 🌟 Coral Reef Friendly: Align with environmental responsibility. 🌟 Dermatologically Tested: Assuring safety and efficacy. 🌟 5in1 Multi-Function Sunscreen: Your all-in-one skincare solution. 🌟 Sun Protection, Whitening, Acne Care, Anti-Aging, Moisturizing – all covered!
Indulge in the excellence of Korean beauty innovation. Luxe Organix invites you to make every day a radiant affair with this exceptional sunscreen. Bid farewell to worries and hello to a brighter, clearer, and protected complexion.
---
We Also Recommend
---