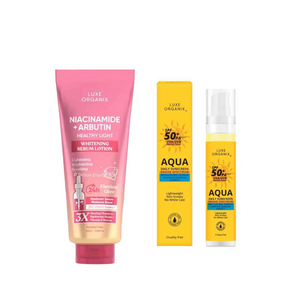 Luxe Organix Aqua Daily Sunscreen SPF50+ PA*** UVA/UVB Protection 50ml + Niacinamide + Arbutin Whitening Serum Lotion (350ml)
Introducing Luxe Organix Sunscreen – a hydrating, lightweight, and water-resistant formula offering broad-spectrum protection with SPF 50 PA+++ against both UVA and UVB rays. This quick-absorbing and non-greasy sunscreen are ideal for daily use and gentle enough for sensitive skin. Infused with the goodness of Aloe Vera extract, it not only shields your skin but also keeps it supple and hydrated throughout the day.
Key Features:
No White Cast: Enjoy a seamless application with no visible residue.
Alcohol-Free: A gentle formula suitable for all skin types.
Paraben-Free: Free from harmful preservatives for a clean skincare experience.
Cruelty-Free: Our commitment to ethical practices in skincare.
Originating from South Korea, Luxe Organix Sunscreen combines advanced sun protection with skin-loving ingredients. Elevate your daily skincare routine with a sunscreen that cares for your skin's health and appearance. Embrace the outdoors confidently, backed by Luxe Organix's dedication to quality and cruelty-free practices.
Elevate your skincare with Luxe Organix Retinol + Gluta Whitening Serum Lotion, a 350ml powerhouse brought to you by Luxe Organix PH.
Discover the Luxe Organix Niacinamide + Arbutin Healthy Light Whitening Serum Lotion—a formula that's light, non-sticky, and deeply moisturizing. Unveil a naturally radiant complexion with the combined benefits of Niacinamide and Alpha Arbutin, working to brighten and enhance your skin's appearance for a flawless glow. This serum-lotion hybrid is enriched with Vitamin C, Hyaluronic Acid, and Vitamin E to rejuvenate lackluster skin and fortify the skin barrier.
Indulge your skin in this concentrated formula, ensuring long-lasting moisture by penetrating deeply. The result? Brighter, softer, and smoother skin that speaks volumes. Trust Luxe Organix for a skincare experience that goes beyond the ordinary.
Originating from Luxe Organix PH, this 350ml serum-lotion is your ticket to radiant, healthy skin. Elevate your skincare routine with this transformative blend, leaving you with a luminous and revitalized complexion. Secure yours now for a radiant transformation
---
We Also Recommend
---