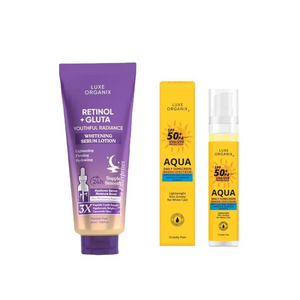 Luxe Organix Retinol + Gluta Whitening Serum Lotion 350ml and Luxe Organix Aqua Daily Sunscreen SPF50+ PA*** UVA/UVB Protection 50ml
Introducing Luxe Organix Retinol + Gluta Youthful Radiance Whitening Serum Lotion, a generous 350ml offering from Luxe Organix PH.
Experience the transformative benefits of this lightweight, non-sticky, and moisturizing formula designed to brighten and restore your skin's natural radiance. Enriched with the potent combination of Retinol and Glutathione, this serum-lotion works to firm and lighten your skin, imparting a boost of youthful glow. Nourishing Peptides, Hyaluronic Acid, and Ceramides are also included, enhancing skin elasticity and effectively locking in moisture.
Indulge your skin daily with this concentrated serum-lotion hybrid, deeply penetrating the skin for long-lasting moisture. Revel in brighter, softer, and smoother skin that reflects a radiant complexion.
How to use: Apply daily to the entire body after bathing or showering for optimal results. This product is best used during the daytime.
Caution: For external use only. Avoid contact with eyes. Prioritize a skin test before regular use. If redness, swelling, or itching occurs, discontinue use and consult a doctor. Keep out of reach of children. Store at room temperature.
Elevate your skincare routine with Luxe Organix Retinol + Gluta, your key to a radiant and revitalized complexion. Secure yours now for a transformative skincare experience!
Introducing Luxe Organix Sunscreen – a water-resistant, lightweight, and aqua-rich formula offering broad-spectrum protection with SPF 50 PA+++ against both UVA and UVB rays. Its quick-absorbing and non-greasy formulation make it an ideal choice for everyday use, even for those with sensitive skin. Enriched with the added benefits of Aloe Vera extract, this sunscreen not only shields your skin but also ensures suppleness and hydration throughout the day!
Key Benefits:
No White Cast: Enjoy a seamless application with no visible residue.
Alcohol-Free: A gentle formulation suitable for all skin types.
Paraben-Free: Free from harmful preservatives for a clean skincare experience.
Cruelty-Free: Our commitment to ethical practices in skincare.
Originating from South Korea, Luxe Organix Sunscreen blends advanced sun protection with skin-loving ingredients. Elevate your daily skincare routine with a sunscreen that prioritizes your skin's health and appearance. Embrace the outdoors confidently, backed by Luxe Organix's dedication to quality and cruelty-free practices. Secure your bottle now for a skincare experience that transcends expectations!
---
We Also Recommend
---