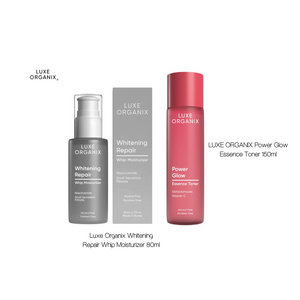 Luxe Organix Whitening Repair Whip Moisturizer 80ml and LUXE ORGANIX Power Glow Essence Toner 150ml
Luxe Organix Whitening Repair Whip Moisturizer 80ml
Elevate your skincare routine with our Whitening Repair Whip Moisturizer (80ml). This lightweight, non-greasy moisturizer is your key to achieving a brighter complexion. Packed with powerful ingredients, it's designed to effectively reduce hyperpigmentation, making it perfect for both daytime and nighttime use.
Enriched with Niacinamide and Snail Secretion Filtrate, this moisturizer not only helps fade dark spots but also deeply nourishes your skin. Plus, you can enjoy peace of mind knowing it's alcohol-free and paraben-free.
Our Whitening Repair Whip Moisturizer hails from the skincare capital of the world, South Korea, ensuring top-notch quality and performance. Discover the secret to a more radiant, even-toned complexion today!
LUXE ORGANIX Power Glow Essence Toner 150ml
Elevate Your Skincare Routine with Luxe Organix Power Glow Gel Cream, a Lightweight Moisturizer Infused with Skin-Nourishing Ingredients
Discover the perfect addition to your daily skincare regimen with Luxe Organix Power Glow Gel Cream. This lightweight and versatile moisturizer is designed to nourish and hydrate your skin, leaving it with a healthy, radiant glow.
Key Features:
Galactomyces Ferment Filtrate and Vitamin C: This powerful combination helps boost collagen production, minimize pores, and give your skin a luminous, healthy appearance.

Reduces Blackheads and Whiteheads: Say goodbye to stubborn blackheads and whiteheads as this gel cream works to unclog and refine your pores.

Antioxidant Protection: Enjoy antioxidant benefits that promote overall skin health and a radiant complexion.

Day and Night Use: Its lightweight consistency makes it suitable for both day and night application, ensuring your skin stays refreshed and rejuvenated around the clock.
Place of Origin: Korea
Directions: Simply cleanse your face, apply toner with a cotton pad, and then gently spread the toner over your face and neck.
Elevate your skincare routine with Luxe Organix Power Glow Gel Cream and unlock the secret to healthy, glowing skin.
---
We Also Recommend
---