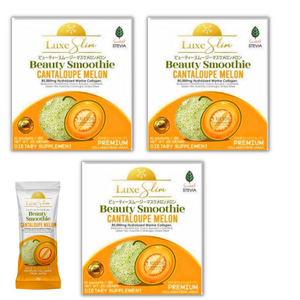 Luxe Slim Beauty Smoothie Cantaloupe Melon, 80,000mg Hydrolyzed Marine Collagen, 21g X 10 Sachets- 3 packs
LuxeSlim Cantaloupe Melon Beauty Smoothie with 80,000mg Premium Collagen 🧡
Elevate your beauty routine with our LuxeSlim Cantaloupe Melon Beauty Smoothie! This delectable beauty juice is not just a tasty treat but a powerful elixir designed to transform your skin and curb those unhealthy cravings. Packed with the goodness of Hydrolyzed Marine Collagen from Japan, Glutathione, Garcinia Cambogia, and L-Carnitine, it's your secret to a radiant, healthy glow.
🌟 Key Features:
✨ Premium Collagen from Japan: Our smoothie contains an impressive 80,000mg of Premium Collagen sourced from Japan. Collagen is the foundation of youthful skin, and this generous dose ensures your skin gets the best care.
✨ Hydrolyzed Marine Collagen: Infused with the finest Hydrolyzed Marine Collagen, our formula works wonders on your skin. It helps reduce wrinkles and fine lines, leaving your skin looking youthful and supple.
✨ Natural Cantaloupe Melon Flavor: The refreshing burst of real Cantaloupe Melon in every sip adds a delightful twist to your daily beauty routine.
✨ Craving Reduction: Say goodbye to those unhealthy cravings. Our formula can help curb your appetite and support your weight management goals.
✨ Free Radical Defense: LuxeSlim's powerful blend fortifies your body against harmful free radicals. It's like giving your skin a protective shield, keeping it healthier for longer.
✨ Skin Lightening and Rejuvenation: With added Glutathione, this smoothie can help make your skin look lighter and more youthful, boosting your confidence.
Make LuxeSlim Cantaloupe Melon Beauty Smoothie your new favorite drink and experience the transformation it can bring to your beauty regimen.
---
We Also Recommend
---