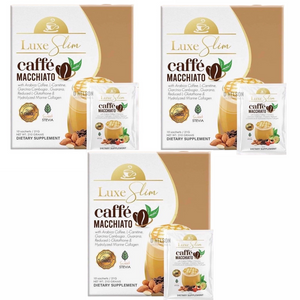 Luxe Slim Caffe MACCHIATO With Collagen & L-Glutathione, 10 Sachets- 3packs
Indulge in Luxe Slim Caffee Macchiato for a Youthful You ☕️
Reignite your inner radiance with Luxe Slim Caffee Macchiato - a premium coffee blend infused with Hydrolyzed Marine Collagen, Reduced L-Glutathione, and a potent mix of Slimming Actives including L-Carnitine, Green Coffee, Guarana, and Garcinia Cambogia.
🌟 Key Features:
Non-Acidic
Keto-Friendly
Safe for Diabetics
🌈 Benefits:
Appetite Suppressant
Powerful Antioxidant
Packed with Essential Vitamins
Aids Digestion
This coffee isn't just about satisfying your caffeine cravings; it's about embracing a slimmer, more glowing you in every sachet.
Please note that individual results may vary, and we don't guarantee specific outcomes. Start your journey to a healthier you with Luxe Slim Caffee Macchiato today!
Discover the magic of Luxe Slim Caffee Macchiato and unlock your potential. Grab yours now!"
---
We Also Recommend
---