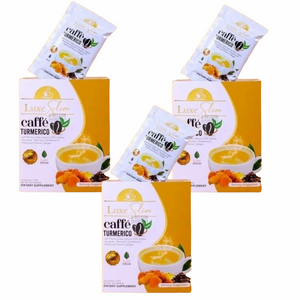 Luxe Slim Caffe TURMERICO With Collagen & L-Glutathione, 10 Sachets - 3 Packs
Elevate Your Wellness with Luxe Slim Caffe Turmerico ☕️
Unleash the vibrant, youthful you with Luxe Slim Caffe Turmerico - a premium coffee blend meticulously crafted with Hydrolyzed Marine Collagen, Reduced L-Glutathione, and an array of Slimming Actives including L-Carnitine, Green Coffee, Guarana, and Garcinia Cambogia.
🌟 Key Features:
Non-Acidic
Keto-Friendly
Diabetic-Friendly
🌈 Benefits:
Appetite Suppressant
Potent Antioxidant
Enriched with Essential Vitamins
Supports Digestion
This isn't just coffee; it's a pathway to a slimmer, more radiant you with every sachet.
Please note that individual results may vary, and specific outcomes are not guaranteed. Our product makes no approved therapeutic claims, but it's a delicious way to enhance your well-being.
Your safety matters! Always consult your doctor before introducing new supplements into your routine.
Unlock the potential of Luxe Slim Caffe Turmerico and embark on your journey to a healthier you. Grab your 10 sachets now
---
We Also Recommend
---