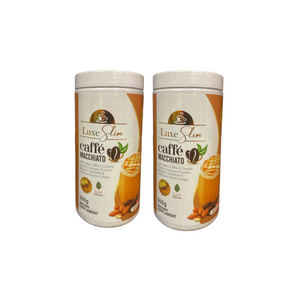 Luxe Slim Half Kilo Canister Caffe MACCHIATO Drink Mix - 2 Pack: Elevate Your Mornings with Rich and Indulgent Flavors!
Indulge in the rich and invigorating taste of 𝐋𝐔𝐗𝐄 𝐒𝐋𝐈𝐌 𝐂𝐀𝐅𝐅𝐄 𝐌𝐀𝐂𝐂𝐇𝐈𝐀𝐓𝐎 ☕️, a luxurious treat that elevates your coffee experience. Crafted with precision, this blend is a perfect fusion of Green Coffee Extract and Garcinia Cambogia, working harmoniously to curb your appetite and promote fat burning.
But that's not all – our special formula includes L-Carnitine for metabolism support and Collagen to assist in reducing the appearance of cellulite. It's not just coffee; it's a carefully curated blend designed to make your coffee break a moment of self-indulgence and wellness.
Treat yourself to the decadence of 𝐋𝐔𝐗𝐄 𝐒𝐋𝐈𝐌 𝐂𝐀𝐅𝐅𝐄 𝐌𝐀𝐂𝐂𝐇𝐈𝐀𝐓𝐎, your perfect companion for a busy day. Transform your coffee routine and savor the richness of every sip! ☕️✨
---
We Also Recommend
---