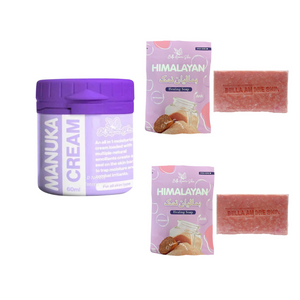 Nourish & Glow Bundle: Bella Amore Skin Manuka Cream 60ml + Himalayan Soap 130g (2-pack)
Indulge in the luxurious skincare experience with Bella Amore Skin Himalayan Soap, a 130g all-natural, chemical-free exfoliator designed to unveil your skin's natural radiance. This soap is carefully crafted with a blend of nourishing ingredients that not only cleanse but also pamper your skin, leaving you with a gentle, easy glow. The properties of this soap work harmoniously to soothe skin and calm irritations.
Ingredients: Saponified Coconut Oil, Ricebran Oil, Rose Water, Glycerin, Olive Oil, Kaolin (Pink Clay), Pink Himalayan Salt, Hyaluronic Acid, Ceramides, Aloe Vera Extract, Licorice Extract, Fragrance, AHA, Niacinamide
How to Use:
Create a generous lather and apply it all over the body.
Thoroughly rinse with water, then pat dry and gently towel-dry the body.
Suitable for daily use as a bath soap. Alternatively, alternate its use with our Himalayan Healing Soap.
Benefits:
Treats Psoriasis and other skin issues.
Reduces scaling, redness, and irritation.
Helps balance skin pH levels.
Exfoliates the skin, revealing a smoother complexion.
Elevate your daily skincare routine with the goodness of Bella Amore Skin Himalayan Soap. Embrace a holistic approach to skincare and rediscover the natural beauty of your skin.
Bella Amore Skin Manuka Cream 60ml - Unveiling Nature's Skincare Secret
Introducing Bella Amore Skin's Manuka Cream, the second miracle product for your skincare routine. Immerse your skin in the goodness of Manuka honey, sourced from the pristine Manuka trees of New Zealand and Australia. This luxurious moisturizer goes beyond the surface, penetrating deeply into the stratum corneum to create a protective oil film. The result? Skin that's not just softer but more hydrated than ever.
Key Features:
Deep Hydration: Penetrates the stratum corneum, locking in moisture and reducing trans epidermal water loss.
All-in-One Formula: A versatile moisturizer with natural emollients that form protective seals, combating irritants for a truly nourished skin barrier.
Manuka Magic: Harnesses the unique composition of Manuka honey for unparalleled skincare benefits.
Other Benefits:
Natural Moisturizer: Keeps your skin hydrated throughout the day.
Antioxidant Content: Fights free radicals, promoting healthy skin.
Acne Treatment: Addresses blemishes while nourishing your skin.
Gentle Exfoliation: Reveals smoother, radiant skin.
Eczema and Psoriasis Relief: Soothes and calms irritated skin.
Anti-Aging Effects: Helps maintain a youthful complexion.
Natural Cleanser: Gently purifies your skin.
Recommended: Pair with Bella Amore Skin's Himalayan Soap for an enhanced skincare ritual.
Pro Tip: Elevate your skincare routine with a spa-like experience. Refrigerate the cream for added cooling comfort, preserving its freshness, efficacy, and luxurious texture.
Product Details:
Transform your skincare routine with Bella Amore Skin Manuka Cream – where nature meets luxury. Embrace the radiance of naturally beautiful skin.
---
We Also Recommend
---