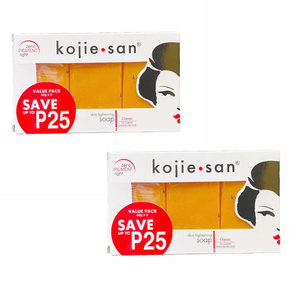 Original Kojie San Skin Kojic Acid Soap 65g x 3 Bars - 2 packs
Original Kojie San Skin Kojic Acid Soap 65g x 3 Bars -
2 packs
Elevate Your Skin's Radiance with Original Kojie San Skin Kojic Acid Soap - 3 Bars (65g Each)
🌟 Original Kojie San Soap by Bevi Elements Venture Philippines 🌟
**Caution: Initial Use May Cause Irritation. Perform a Skin Patch Test Before Applying to Face or Body.
Discover the transformational power of Kojie San Skin Soap, enriched with high-grade kojic acid for a brighter complexion. Featuring Zero Pigment Light Technology, this soap is designed to target dark spots and uneven skin tone, delivering unparalleled results.
🔆 Zero Pigment Light Technology: A groundbreaking skin brightening delivery system ensures the potent active ingredient is effectively absorbed and activated in the areas where it's needed most. Say goodbye to dark spots, age spots, scars, melasma, and hyperpigmentation, and say hello to a lighter, more even skin tone.
⚠️ For optimal results, apply sunscreen consistently to shield your skin from sun damage.
✓ Dermatologically Tested ✓ Paraben-Free
🌊 How to Use:
Wet the soap and create a lather.
Gently massage onto your skin.
Rinse thoroughly with water.
🚫 Precautions:
For external use only.
Discontinue use if any signs of irritation occur.
In case of contact with eyes, rinse with water.
Experience the magic of Original Kojie San Skin Kojic Acid Soap and elevate your skin's natural radiance. 
---
We Also Recommend
---