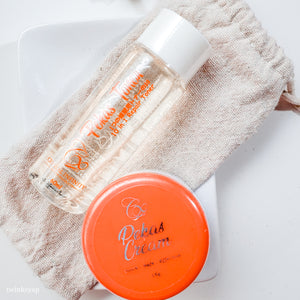 Pekas toner and pekas cream
🍀Pekas Cream and Pekas Toner🍀 ️PEKAS REMOVER CREAM 15g & PEKAS TONER♥️ Pekas na walang lunas? pwes, nagkakamali ka. Ngaun solve na ang problema mo sa murang halaga. Dahil may pekas remover na, Ialabas ang ganda! Pekas or Melasma is a sign of Aging and Skin Damage due to chemical peeling agents and other cosmetics.
Pekas Remover Cream used for:
✔ lightening skin
✔ melasma
✔ balancing skin tone
✔ hyperpigmentation caused by over sun exposure
✔️CLINICALLY AND DERMATOLOGICALLY TESTED AND PRESCRIBED
It is a mild combination of our best seller products to attain the best result and maximized each products benefit. Clinically tested and prescribed for people who suffers discoloration, melasma, darks spots, because of aging. It will helps you have glowing and beautiful skin.
➡HOW TO USE PEKAS REMOVER CREAM
✔Cleanse your face with your favorite soap
✔Use pekas toner
✔Put ample amount all over your face
✔Let it dry
✔Put some cream one more time after 30 mins.
Safe for Pregnant & Lactating moms.
PM FOR ORDERS AND INQUIRIES.
---