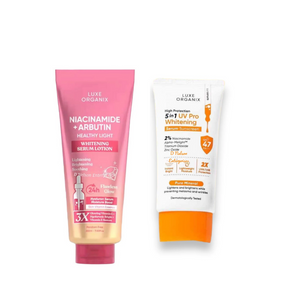 Luxe Organix Sun-Kissed Radiance Combo: 5-in-1 UV Pro Whitening Serum Sunscreen (40ml) + Niacinamide + Arbutin Whitening Serum Lotion (350ml)
Luxe Organix Niacinamide + Arbutin Healthy Light Whitening Serum Lotion 350ml
Discover the luxurious skincare benefits of Luxe Organix Niacinamide + Arbutin Healthy Light Whitening Serum Lotion, a lightweight, non-sticky formula designed to brighten and restore your skin's natural radiance. Infused with potent ingredients like Niacinamide and Alpha Arbutin, this serum-lotion combo works to lighten and enhance your skin's appearance, promoting a smooth and flawless glow. Packed with additional benefits from Vitamin C, Hyaluronic Acid, and Vitamin E, it revitalizes dull-looking skin and strengthens the skin barrier.
Indulge your skin with this concentrated serum-lotion hybrid that deeply penetrates for long-lasting moisture, leaving you with brighter, softer, and smoother skin. Elevate your skincare routine with Luxe Organix.
 Luxe Organix 5 in 1 UV Pro Whitening Serum Sunscreen SPF 47 PA+++ 40ml
Experience ultimate sun protection and skincare with Luxe Organix High Protection 5-in-1 UV Pro Whitening Serum Sunscreen. This mineral-based sunscreen boasts SPF 47+++ for maximum defense against harmful UV rays. Its lightweight, non-sticky, and non-greasy formula, featuring Titanium Dioxide and Zinc Oxide, provides broad-spectrum protection against both UVB and UVA rays.
Infused with Alpha Melight, a natural skin whitening agent, this sunscreen effectively reduces dark spots and hyperpigmentation caused by melasma. Enjoy additional skincare benefits from Niacinamide and Adenosine, which combat wrinkles, promoting a bright and youthful complexion.
Formulated to be water and sweat-resistant, this sunscreen ensures long-lasting protection for all-day use, anytime and anywhere. Embrace the following key features:
Fragrance-free for a pleasant, irritation-free experience
Coral Reef Friendly, showing our commitment to environmental responsibility
Dermatologically Tested, ensuring safety and effectiveness
5-in-1 Multi-Function Sunscreen for comprehensive skincare
Sun Protection, shielding your skin from harmful UV rays
Whitening, promoting an even and radiant skin tone
Acne Care, addressing skin concerns for a clearer complexion
Anti-Aging, combating wrinkles and fine lines
Moisturizing, keeping your skin hydrated and supple
Originating from Korea, Luxe Organix brings you a skincare solution that blends advanced sun protection with the best of Korean beauty innovations. Elevate your skincare routine with this powerful sunscreen that cares for your skin in multiple ways. Embrace the sun confidently, backed by Luxe Organix's commitment to quality and efficacy.
---
We Also Recommend
---