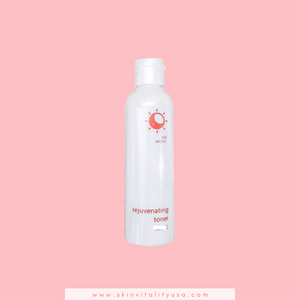 Rejuvenating toner 60ml ( 2 bottles)
Ryx Skincerity Rejuvenating Toner (Day & Night)


If you want to talk about science, a toner is a fast penetrating liquid that delivers skin a quick hit of hydration and helps remove some dead cells off the surface of the skin.
The result? Plump, glowy skin!
Dead skin cells trap your skin, getting rid of them by simply using a toner; it mildly exfoliates the surface revealing a soft clean surface for the rest of your routine.
Ryxskin Sincerity Toners offers that!
We have 3 different kinds of toners that we also sell individually!
It normally takes 28 days for dead skin to naturally shed, but as you age. It takes more days for the surface to renew.

This toner accelerates the cycle. It micro-peels layers of the dead skin, you'll barely notice the peeling but you'll surely recognize your skin's radiance and glow. This rejuvenating toner is produced with Lemon and Tomato that fights acne, reduces wrinkles and removes unwanted dead skin cells.
This toner is mild and suitable for all skin types, including those with sensitive skin.
REJUVENATING TONER (60ml  - clear acne, minimize pores, even skin tone, texture and leave skin glowing.
Net Weight:60 ml x 2 bottles 
---