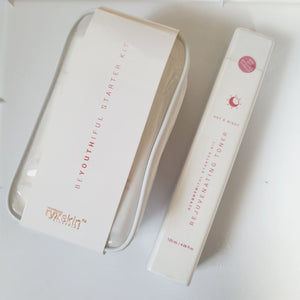 Ryxskin Beyouthiful starter kit with Rejuventaing 120ml ( New formula)
Your favorite skincare set that makes you glow takes its GLOW UP. 💗
SHE. STARTED. IT. ALL. and she will continue to soar even higher! Since 2018, it has been the FIRST REJUVENATING SET in the market to use facial wash instead of soap and serum instead of night creams. Since then, slayers' glow-up journey has been our topmost priority.
From lathering your face with the facial foam to applying the power toner up to finishing your routine with an SGS certified sunshield 🤷🏻‍♀️ or serum (day/night) — until you see yourself in the mirror… GLOW-UP IS NOT JUST A LOOK BUT AN EMPOWERING EXPERIENCE.
And NOW, we even transform this with improved consistencies yet same formula, and more sustainable packaging — and guess what, with just the same PRICE!
WE WANT YOU to own this satiable glow up experience 💗
Who is she? It's RYXSKIN BEYOUTHIFUL STARTER KIT.
Get your timeless BEauty and undeniably classic YOUTHful skin in one skincare set.
SLAYIN' THIS 2022. ✨
#RYX #RyxSkin #SlayTheDay
---