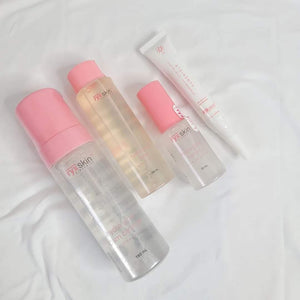 Ryxskin hydra glow set ( Full set)
This set is specially designed to be😶‍🌫️ mild and gentle on your skin, making it perfect for daily use. It features a hydrating cleanser that will remove impurities and leave your skin feeling soft and smooth. The set also includes a toner that will help to balance your skin's pH levels, as well as a moisturizer that will lock in moisture and give you a radiant, dewy glow.

All of the products in the Hydra Glow Set are made with high-quality ingredients that are free from harmful chemicals and toxins. They're also cruelty-free so you can feel good about using them on your skin.

Whether you're dealing with dry, dull skin or simply want to give your complexion a boost, the Hydra Glow Set is a must-have addition to your skincare routine. Try it today and see the difference for yourself!

 
---
We Also Recommend
---