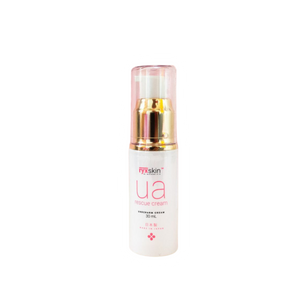 Ryxskin Sincerity Under Arm Rescue Cream:
These products in this collection have gotten a little roughed up during shipping from the Philippines, resulting in MINOR IMPERFECTIONS such as SMALL LEAKS. But no worries! We're offering them at super low prices, so you can still enjoy their quality without breaking the bank!
----------------------------------------------------------------------------------UA Rescue Cream:
SRP: $25
Problem: Minor Leakage During Shipment-------------------------------
Discover our UA Rescue Cream, the ultimate solution to rescue your underarms from chicken skin and darkening. Our underarms deserve the same love and care as the rest of our body, and we've crafted the perfect product to reveal your "dark secrets." This unique gel-cream is designed for deep absorption, in contrast to most commercial underarm products that merely sit on the surface, potentially leading to clogged pores.

Not only does UA Rescue Cream nourish the skin underneath, but it also boasts powerful anti-perspiration properties to protect your underarms from foul odor. Say goodbye to underarm concerns and embrace a more confident you. Try UA Rescue Cream today and rejuvenate your underarms.

Benefits:

Banish chicken skin and darkening.
Deep skin nourishment.
Effective anti-perspiration protection.
Absorbs quickly for clog-free pores.
Reveal smoother, healthier underarms.
Don't let your underarms be a "dark secret" any longer. Try UA Rescue Cream now and give your underarms the love and care they deserve.
---