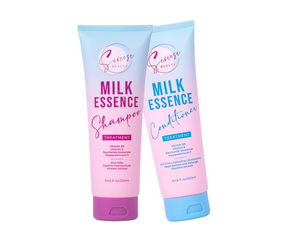 Sereese Beauty Milk Essence shampoo and conditioner
Say goodbye to bad hair days with Sereese Beauty Milk Essence! This powerful hair treatment harnesses the natural nutrients found in milk to strengthen and nourish your hair, leaving it looking and feeling healthier than ever before.
Milk is known for its high levels of calcium, protein, and other essential nutrients that promote hair growth and prevent hair damage. Sereese Beauty Milk Essence takes advantage of these benefits, providing your hair with the vital nutrients it needs to stay strong, healthy, and beautiful.
This hair treatment is perfect for all hair types, whether you have curly, straight, or wavy locks. It can be used as a leave-in conditioner or as a deep treatment, depending on your hair's needs.
With regular use, Sereese Beauty Milk Essence can help prevent hair breakage, reduce split ends, and improve overall hair texture. You'll love the way your hair looks and feels after using this amazing product.
So why wait? Treat your hair right with Sereese Beauty Milk Essence and experience the incredible benefits of milk for yourself!
Direction for use:
Apply Sereese Beauty Milk Essence to damp hair after shampooing and conditioning.
Massage gently into hair and scalp.
Leave-in for 5-10 minutes for deep treatment or style as usual for leave-in conditioner.
---
We Also Recommend
---