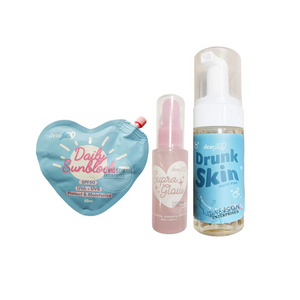 Ultimate Facial Care Trio: Drunk Skin Cleanser, Supra Glow Serum, and Daily Sunblock
Revitalize Your Skin with These 3 Must-Haves! ✨
Drunk Skin Facial Wash, 100ml
Experience deep facial cleansing for minimized pores and instant skin radiance. This versatile cleanser also offers numerous benefits, from anti-aging to acne control.
Daily Sunblock Sunscreen, 50ml
Protect your skin from UVA/UVB rays throughout the day with our non-greasy, moisturizing sunblock. Say goodbye to white residue and hello to protection against sun damage, inflammation, and hyperpigmentation.
Supra Glow Brightening Serum, 30ml
Achieve brighter, smoother, and refined skin with our fast-absorbing serum. Ideal for those with dry and dull skin, it leaves no greasy or sticky feeling behind.
---
We Also Recommend
---