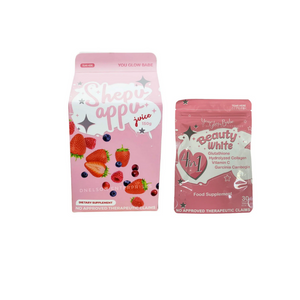 You Glow Babe BEAUTY WHITE 4 in 1 Glutathione & Shape Up Shepu Appu Juice
You Glow Babe BEAUTY WHITE 4 in 1 Glutathione &
You Glow Babe SHAPE UP Juice SHEPU APPU, 10 Sachets x 15g
Introducing You Glow Babe BEAUTY WHITE Glutathione Capsules, the Japanese Formula for radiant skin and overall well-being. Each capsule is a powerhouse, combining essential ingredients like collagen, glutathione, vitamin C, and alpha-lipoic acid for a comprehensive approach to beauty.
Directions: Take 1-2 capsules daily, preferably after meals before bedtime.
You Glow Babe Beauty White Intense Whitening Glutathione Capsule:
Japan Formulation
Slimming
Collagen
Vitamin C
Benefits of Beauty White 4 in 1:
Promotes a more youthful appearance
Supports a healthy immune system
Lightens and hydrates the skin
Enhances sleep quality
Reduces stress levels
Improves skin, hair, and nail health
Provides antioxidant protection
Helps prevent skin aging
Assists in treating mild to moderate acne
Glutathione is a potent antioxidant known for skin whitening, toxin protection, and immune system support. It has also demonstrated benefits in reducing the risk of heart disease and certain types of cancer.
Collagen contributes to joint health, alleviating osteoarthritis discomfort, and aiding in the metabolization of polyunsaturated fats. It strengthens connective tissues and elastin, bolstering your resilience against physical stress.
Slimming capsules are crafted from natural ingredients that optimize fat burning and eliminate toxins.
Vitamin C plays a pivotal role in shielding your skin from sun damage, enhancing the immune system, and boosting collagen production.
Active ingredients: Glutathione, Collagen Peptide, Alpha-lipoic acid, Sodium Ascorbate, Vitamin E, Grapeseed, N-acetyl cysteine
Experience the comprehensive benefits of Beauty White for a more beautiful you.
---
We Also Recommend
---